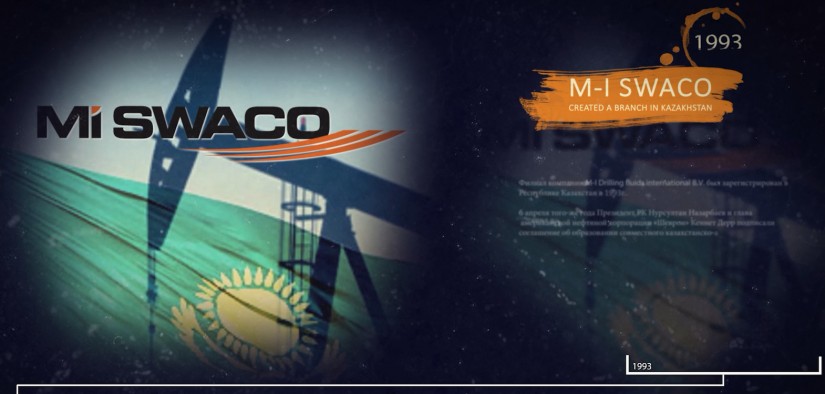 History
The Company history dates back to the far year of 1993.
That particular year Kazakhstan-American Joint Venture for Tengiz field development - TENGIZCHEVROIL which became the first customer of M-I Drilling fluids international B.V. Kazakhstan was established.
2000 was the new challenge for the Company - Establishment of Aktobe and Aktau Offices provided a sharp spike in operations geography extension, increase in Company staff and logistic infrastructure. Notwithstanding all difficulties the effective staffing policy and constant scheduled training of personnel in the Training Centres world-wide enabled the Company within a short time to become a leader in the drilling mud services market in the Republic of Kazakhstan.
In 2003 the Company continued to expand. Establishment of Atyrau and Uralsk Offices allowed building up the scopes of services at oil and gas fields of Mangistau, Atyrau, West-Kazakhstan, Kyzyl-Orda and East-Kazakhstan oblasts.
To create competitive advantage as well as to comply with the market dynamic the negotiations with regard to joint venture foundation started in 2007.
KazM-I LLP the founders of which were TenizService LLP and M-I Drilling fluids international B.V. was registered on 4 December of 2008.
The first Integrated Service Contract was signed with OMV Petrom S.A. in 2009.
In 2010 Liquid Mud Plant in Bautino was commissioned by the President of the RoK N.A. Nazarbayev under the Industrialization Program.
Also, this year M-ISWACO became a part of Schlumberger that in turn enabled the extension of Kaz M-I capabilities.
In 2011 the deepest well in Kazakhstan was successfully drilled with the use of Kaz M-I services.
The same year the service provision operations for AGIP KCO in Kashagan were commenced. Successful project implementation enabled extension of the portfolio of the services to be provided for NCOC and continue providing services to the present day.
In 2013 the JV introduced new drilling waste disposal technologies. So, after two years of preparatory works the pilot and the first ever in Kazakhstan sector of Caspian Sea drilling cuttings re-injection was performed.
In 2014 Kaz M-I LLP under the further extension of operations geography started servicing the Eco-Center of Karachaganak Petroleum Operating.
Continuing the success history of the business partnership with TCO Kaz M-I won again all drilling product ranges in 2015.
In 2016 the NCOC servicing in Karabatan, Samal-2 started.
2017 was marked by the first contract for DPM product line in Kazakhstan.
2018 is an anniversary year for Kaz M-I. Establishment of Joint Venture along with M-I SWACO's quarter-century experience at Kazakhstan market is the solid foundation for further introduction of new technologies and Company growth.

Map – Facilities
Currently Kaz M-I's offices are located in Aktau, Atyrau and Uralsk. To provide our customers with high quality services the following operational facilities are in operation – Caspian Global Central Base in Aktau, Operating Base in Uralsk, Liquid Mud Plant in Bautino, Karabatan, Tengiz, Ansagan and Chinarevsky Facilities.
Caspian Global
Caspian Global Base is located in the namesake logistic terminal and is central base for Kaz M-I in Kazakhstan. The complex of total area more than 4000m2 includes:
Closed heated warehouses and open storage areas;
Administrative facilities;
Workshop equipped according to international quality standards;
Drilling mud selection and analysis lab;
Oil-field chemistry selection lab.
The complex's warehouses store more than 100 chemicals sorted by type and hazard class. Operating quality control procedures are implemented.
All equipment used at facilities of our partners throughout Kazakhstan starts out at Caspian Global Base.
This is the very place where it takes the full service cycle in compliance with international STEM standards.
Full set of equipment maintenance operations is carried out in Kaz M-I workshop.
All company equipment has its personal operation, maintenance and storage history which is recorded into the common database.
So, the service activities carried out at the Base allow meeting the customers' highest standards with regard to the provided services quality and cost.
Liquid Mud Plant is located in TenizService LLP area in Bautino. The Plant is designed for support of Caspian Sea's field operations.
The complex comprises:
Drilling and other process fluid storage tanks, with total capacity of 4000 m3;
Dry bulk material storage siloes, total capacity of 1200 m3;
Closed chemicals preparation, packing and storage facility, 3500 m2;
Used drilling mud reconditioning unit;
Tank interior heating system for year-round operation;
Fixed air supply system to all primary units and packages;
Moorings for output products loading system to marine vessels;
Designated area for ingoing and outgoing shipment handling.
Maximum plant capability is 250 m3/day for drilling mud and 600 m3/day for brine.
Since commissioned over 35 000 m3 of drilling mud and mineral oil have been prepared and transferred, over 10 000 t of bulk materials have been shipped, approximately 10 000 ton of different goods have been supplied. The output products control for compliance with the required parameters has been arranged in own accredited laboratory.
TCO
Currently Kaz M-I provides support for 5 drilling and two Workover rigs at Tengiz. Above 200 wells of total length 1 mln. meters have been drilled over the quarter-century servicing history.
The Company's key focus areas at Tengiz are:
Supply of materials and drilling muds and completion fluids preparation;
Drilling liquid and solid waste treatment;
Drilling mud solids control equipment repair and maintenance.
To ensure continuous Tengiz field development Drilling Mud Plant was newly commissioned in 2011.
All fluids required for well drilling and completion are made up, shipped, prepared for re-use at the plant.
- Total storage capacity – 6 300 m3
The plant mixing capability is 250 m3/day of drilling mud.
- Above 100 000 m3 of fluids were built over the last 8 years of the drilling campaign.
Envirocenter is designed for drilling liquid waste treatment.
Total volume of liquid wastes treated over the last 8 years is above 40 000 m3;
Total volume of drilling mud treated is above 43 000 m3;
over 4000 m3 of oil based mud have been shipped for re-use.
Also drilling mud cleaning equipment maintenance operations are carried out. The Company specialists provides support for all TCO drilling facilities and WO operations with regard to equipment maintenance, repair, optimization of equipment operating parameters, provision of spare parts supply continuity.
Trainings, sessions for TCO employees, representatives and Drilling Contractor are provided.
TCC
Complex of equipment and infrastructure solutions for drilling cuttings and associated wastes processing to enable regeneration of base oil and water for reuse is operated at Tengiz field.
The complex functions 24 hours a day with the rated capacity of 5ton/hour.
Engineering solution is based on friction temperature rise inside the mill up to 300-400°С to segregate drilling cuttings into solids containing less than 1% hydrocarbons, water and base oil.
Technology allows reduction of drilling waste amount and ensuring its environmental safety in accordance with requirements of the Republic of Kazakhstan. Since 2013 over 137,000 tons of drilling cuttings and associated wastes have been processed; over 16 000 m3 of diesel fuel for reuse have been recovered.
In Mangistau oblast starting from 2002 we are the long-standing partner for OMV Petrom S.A. and from 2011 for Maersk Oil Kazakhstan.
During the efficient cooperation both integrated and individual drilling and oil and gas recovery projects have been implemented.
Starting from 2003 our company with the support of Operating Base in Uralsk provides servicing in West-Kazakhstan oblast.
Currently a complex of services is provided at Chinarevskoye and Rostoshinskoye fields of Zhaikmunai LLP.
Application of Ultradrill system enabled the quality enhancement and drilling accident rate reduction. Also, the maintenance of the LMP and drilling waste treatment unit is carried out.
Over the last 8 years Kaz M-I is the only company which provides the industry-specific service in Kazakhstan's Caspian Sea sector. In this period 7 exploratory wells of different complexity have been drilled by such companies as Zhambyl Petroleum, Satpayev Operating and N-Operating as well as 21 production wells in Kashagan for North Caspian Operating Company.
Our Company's success path is composed of application of reliable and proven technologies, in-depth analysis of acquired experience, optimization of the proposed solutions, formation of partnership relations with the customers and constant staff development.
Implementation of innovative solutions at the fields of the Republic of Kazakhstan, unfailing commitment of management and employees to creation of positive health and safety culture allowed Kaz M-I taking the leading position in industry-specific service.
Above 250 qualified employees help our customers to achieve the set objectives.
Over 10 year of existence Kaz M-I proved itself as reliable partner in implementation of projects of any complexity both onshore and offshore.
Notwithstanding the difficult periods of the world's oil and gas industry development the Company continues introduction of new technologies, extension of a range of services to be provided and training of employees to the best worldwide standards.
Our Company looks ahead with confidence and intends to continue formation of its success history!
Kaz-MI - customer focused solutions driven!