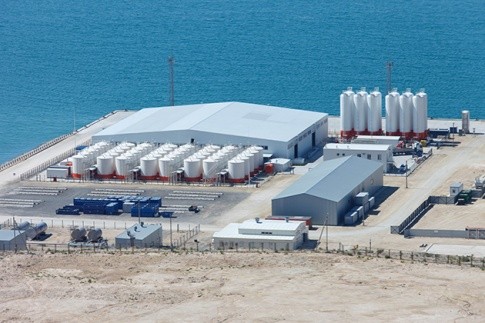 Bautino
Bautino, the Liquid Mud Plant and Bulk Plant is covering the needs of one of biggest projects in Kazakhstan. Agip KCO three rigs are using OBM, brine, Barite and cement provided by Kaz M-I LMP.
The facility comprises three parts:
Mud plant: 4300m3 capacity, two mixing hoppers, 2 centrifuges and several pumps, it can mix up to 1500 m3 of OBM per day, and transfer rate (to boat) of 180m3/hr.
Bulk Plant: with its 12 silos it holds up to 1200m3 of bulk material. The main bulk material is Barite and cement. The transfer rate for barite and cement is 100 mt/hr and 70 mt/hr respectively.
Warehouse: with a surface area of 3500m2, it holds different types of materials needed for drilling and completion products.