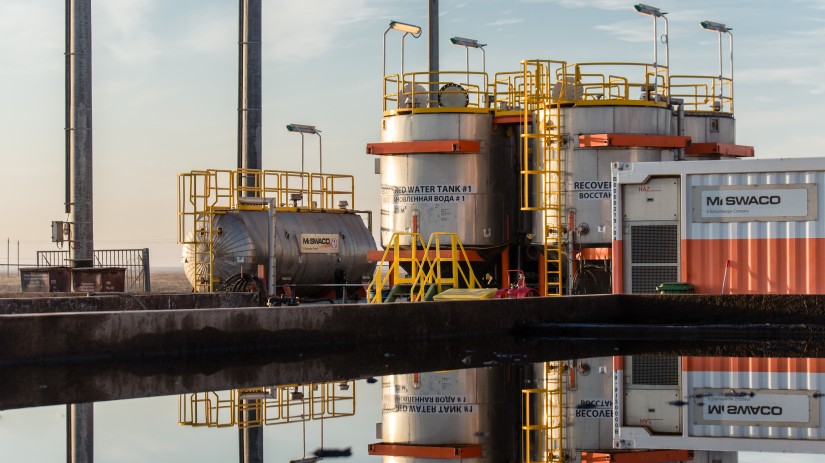 Facilities Construction
Because of our extensive previous experience in Kazakhstan servicing TCO, Agip KCO / NCOC, Shell CMOC, Zhambyl Petroleum, Satpayev Operating N-Operating Company, Zhaikmunay, MAERSK Kazakhstan (Total), Karazhanbas Munay, North Buzachi OC, Kaz Ger Munay, Karakuduk Munay, KazakhTurk Munay, EXXON/MOBIL, Mangystau Munay Gaz, Aman Munay, Petrom OMV, OntustykMunay Gaz, ATMGG-B, Upetrom Foserco, we have developed a unique understanding of local operations as well as a comprehensive local data base. In addition, our access to the M-I SWACO Intranet allows us to draw upon M-I SWACO's considerable expertise and resources worldwide in problem solving.
Logistics support includes two major staging areas and two complete liquid mud and bulk plants covering the offshore and onshore drilling operations.
Kaz M-I Environmental Solutions Department is an integral part of the operation, providing a wide range of services ranging from solids control equipment, and completion and filtration to waste disposal. Two Thermal Treatment facilities, processing oily contaminated drill cuttings, One facility operating for NCPOC in Bautino and One operating for TCO in Tengiz. Additionally Kaz MI operates a Drill Cuttings Injection facility offshore for AGIP where contaminated drill cuttings as well as oily water is injected into the sub-surface formations. We offer a strong, established organization that has learned to optimize operations, a well-developed logistical capability, and a proven history of success.